5 Stones Fight Club
Join the Fight
Gym

At the heart of our ministry is a 10,000 square foot facility located in Annville, PA where we specialize in American Jiu Jitsu, Boxing, and Powerlifting. At this facility we aim to share the love of Jesus through the avenues of MMA and fitness.

Ministry

We're a Church of Action, afterall our ministry takes place in a setting where individuals come to sharpen themselves physically but through our culture and community; end up coming into direct contact with the Gospel of Jesus Christ.

Missions

Ultimately we want to raise up strong and competent Christians that are willing to engage people where they are. Our missions give us the opportunity to be the hands and feet of Jesus, regardless if that's locally or in war-torn areas around the world.
Our Specialities
Are you looking to become an asset? Being able to protect and defend yourself as well as the ones you love is an absolute necessity in today's world. Our mission is to create force multipliers for good, individuals that are capable of engaging any threat, any challenge, any obstacle; regardless if it's internal or external. …
"The Gentle Art" Are you looking for a realistic and effective way to defend yourself, improve your strength and conditioning, and be a part of a killer community? Those are just a few of the reasons why so many of us here at 5 Stones love our Jiu Jitsu program. Our Jiu Jitsu program takes …
Are you looking to become stronger, faster, and more athletic? Powerlifting is a specialized sport focused on an individual's ability to move maximum weight. The pursuit of the ability to lift maximum weight results in muscular development, coordination, strong posture, and a positive mental disposition. Regardless if you're looking to increase bone density to fight …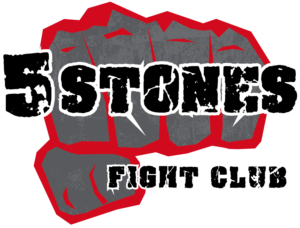 5 Stones goal is to engage individuals in mixed martial arts and fitness so that they can become both physically fit and spiritually sound. Relating our struggles on the mats and the ring to our daily battles in life, and to provide the necessary support to become moral representatives of our Lord and Savior, Jesus Christ.